"An outstanding work! I refer to it before looking at TechSmith's help site." – Frank Oberc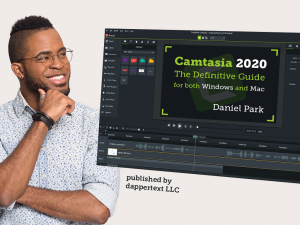 The best Camtasia guide keeps getting better. Camtasia: The Definitive Guide has been a mainstay of the screencaster's bookshelf since 2005. It has helped even seemingly hopeless technophobes become screencasting ninjas in less time than they ever thought possible. No Camtasia book is as comprehensive or approachable. Now it's available exclusively as an all-digital download. Both Windows and Mac versions are fully supported.
Unsure? Just check out these two sample chapters (out of 14 total in the full guide):
Tips: Double-click to zoom in. Click and drag to pan around. Use the arrow keys to move from page to page.
Paperless Interactivity
The all-digital guide offers perks you just can't get on paper, like easy searchability. And full-size, full-color screenshots. And thirty embedded screencasts that total over an hour of content. A lot of love went into this little tome. You'll be able to take advantage of my decade's worth of experience as a professional screencaster, learning not just features and buttons, but workflow and best practices.
All from one of the most experienced screencasters in the business.
And should you decide to purchase the full book, you'll get all 850 pages of content, including…
Tips on preparation
Recording, including best practices on recording PowerPoint and other special situations.
The lowdown on the multi-track editing and animation functions, including the amazing behaviors function.
Updates on all the newest features of version 2020, and how to wield them like a pro.
Tutorials on using all the special effects, including tips on when you'd want to.
Production advice to help you prep your screencast for any audience, any device. Avoid the "blurry" pitfalls of inappropriately scaled video!
A special hardware Buyer's Guide for audio equipment, so that you'll be able to narrate like a pro.
A BRAND NEW CHAPTER on Saving Time on Task, including info on templates, themes, presets, themes, and packaging.
That's hundreds of pages of screencasty goodness, more than 300 screenshots, and an hour's worth of screencasts, for just $49.
My guarantee: find it useful or I'LL PAY YOU.
Yes, you read that right. The Definitive Guide is designed to shave many hours of frustration off your learning time. If after using this Camtasia Guide for at least three weeks, you don't believe you've saved at least $100 worth of time and frustration, just return it! I'll refund 150% of your purchase price. (See terms & conditions)
I'm so sure you're going to love the Definitive Guide that I'm putting my money where my mouth is. I would literally be paying you just to give it a try.
So get busy. You have absolutely nothing to lose.
Keep in mind that the book is available both within an online reader and for download as an industry-standard interactive PDF document. That means no proprietary readers. No digital rights management. The book can be opened on both Windows and Mac computers. With the online reader, you can even read the book on tablets.
On the fence? Just check out a few reviews submitted by our satisfied customers:
Average rating:
16 reviews
Oct 14, 2020
Great tool and reference.
This is great tool for an ever expanding app that gets more complicated. Follow Daniel and you will find the way.
Oct 18, 2018
Camtasia 2018 Definitive Guide - All I can say is Wow!
I've been a Camtasia user for years but have recently really invested the time to understand how it works. This guide from Daniel was just what TechSmith doesn't make available to users--comprehensive instructions. I am very happy I purchased this guide.
Oct 11, 2018
Encouraging and engaging
I am only part way through the book, fairly experienced with the software, but found the text encouraging, engaging and best of all easy to digest. Good illustrations and succinct text made it a pleasure to read and follow. Well worth getting as I am learning useful, practical value added tips. So glad to have it as a mentor and guide.
Dec 13, 2017
This is THE BOOK by THE AUTHOR
Daniel's books are tops! I've owned paper and electronic all the way back to Camtasia 6. The electronic editions with demos are particularly helpful. They and the Techsmith website are really all you need to produce quality video. Daniel is really good at helping focus on workflow to do it right the first time. Story boards. Script. No winging it. Worth every penny.
Aug 2, 2017
Camtasia 9 Definitive Guide
After reading a good portion of Daniel Park's Camtasia 9, the Definitive Guide, I can say this is the best book I have read on the subject. I have been through 2 other books on Camtasia, and they are not even worth mentioning. For any person really serious about Camtasia and squeezing it for all its worth, The Definitive Guide is written just the way Daniel speaks, down to earth, with the full intent to help the reader get it.  I know because I signed up and went through Daniels Screencast Ninja Academy.

I highly recommend this book as the investment is well worth the cost.  I also purchased an additional copy for my business affiliate, since I believe it is that good.
Still not sure if the Guide will address your needs? Scroll down for a complete table of contents!
Enjoy!
Daniel Park
——————————————————-
Contents
Unit 1: General Introduction

Chapter 1 – Introduction to Camtasia 2020

What Is Camtasia?

Can Camtasia be used for usability?
Can Camtasia be used to record games?
Is Camtasia only for Windows?

What's New in Camtasia 2020?

Reusing Content
Interface Improvements
New Editing Capabilities
Visual Quality
Mobile Screencasting

What Other Hardware and Software Do You Need?
System Requirements
Other Helpful Software

Chapter 2 – About This Book

What You Can Expect to Find in Each Chapter
About the Screenshots in This Book
A Note on Terminology
Formatting Conventions

Hotkeys
Special Sections
Emphasis

Unit II: Prep Work: Before your first Recording

Chapter 3 – Quick and Dirty Curriculum Design

General Guidelines

Know Your Audience
Determine All Technical Specs Ahead of Time

Tips for Making a Top-Notch Training Video

Why Train with a Screencast?
Know Your Video's Purpose
Learn the Basic Principles of Educational Multimedia
Recording Techniques for Training Videos

Tips for Making a Masterful Marketing Video

Why Sell with a Screencast?
Know Your Video's Purpose
Address the Customer's Need
Remember to Ask for the Sale

Tips for Making a Dynamite Demonstration Video

Why Present with a Screencast?
Determining the Video's Purpose
Finding Information about Your Audience

Additional Reading

Training Videos
Marketing Videos
Demonstration Videos

Summary

Chapter 4 – Scripting and Storyboarding

General Tips on Scripting

Gathering All the Pieces
Avoiding the "Blank Page" Syndrome
What to Write: Form and Content

General Tips on Storyboarding

Choose a Presentation Layout You're Comfortable With
Storyboard Flow
Multiple Image/Video Tracks

Summary

Unit III: Recording With Camtasia

Chapter 5 – Recording Your Screen

Making Your First Recording

Recording in Camtasia for Windows
Recording in Camtasia for Mac

Setting Up Your Recording

On Consistency: Capture Area Selection Revisited
Choosing Which Streams to Include
The Camtasia Recorder User Interface

Adjusting Your View
The Menu Bar

Recording Games

Recording Mobile Devices

Capturing iOS into Camtasia Mac
Alternative Mobile Capture Options

Recorder Workflow Tips

Work from a Script
Take the Time to Set Up Your Shot
Don't Mess with Your Windows
Timing Is Everything
Avoid the Scroll Wheel
Pause when Needed
Split Things Up

Summary
Exercises

Chapter 6 – Special Effects of the Camtasia Recorder

Annotation Effects
Cursor Effects
Mouse click sounds
ScreenDraw
Summary
Exercises

Chapter 7 – Recorder Preferences

Windows Tools Options

The General Tab

Help Options
Capture Options
Saving

The Inputs Tab

Frame Rate
Video settings
Selecting an Input: Audio Devices and Sources
Selecting an Output: Audio Settings
Camera settings

The Hotkeys Tab
The Program Tab

Recording region
Workflow
Minimize

Mac Preferences

Capture settings
Save settings

Summary
Exercises

Chapter 8 – Recording Your PowerPoint Presentation

Why Record Your PowerPoint Presentations?

Almost as Good as Being There
Audio and Video
Ink Annotations
Portability
Better Playback Control
Interactive Features
Security
Capture of Third-Party Applications

Camtasia Add-In Toolbar
Add-In Options Dialog

Program Options
Video and Audio Options
Picture-in-Picture Options
Record Hotkey Options
Watermark Options

Recording Your Presentation
Moving Your Project to Camtasia
Playing Camtasia Screencasts within PowerPoint
Troubleshooting the Add-In

What If the Add-In Doesn't Open?

Importing PowerPoint into Camtasia Mac
Summary
Exercises

Unit IV: Editing Within Camtasia

Chapter 9 – Working with Camtasia

The Camtasia User Interface
Importing and Using Your Media Clips in Camtasia

Importing from Google Drive

Getting Started with Google Drive

Setting up Mobile Connectivity

Selecting Mobile Content
Capturing Mobile Content
Preview Mobile Content & Connect to Camtasia

Utilizing the Media Bin
Previewing Your Clips
Adding a Clip to the Timeline
Adjusting Your Canvas Dimensions

Editing on the Timeline

Viewing Your Work on the Timeline
Basic Timeline Editing

Moving Clips Around on the Timeline
Selecting Content for Editing
Selecting Entire Clips
Zooming In and Out on the Timeline
Deleting Content from the Timeline
Trimming Content from the Timeline

Advanced Editing Techniques

Splitting a Clip
Extending a Video Clip
Adjusting Clip Speed
Cropping a Clip
Adding new tracks
Locking Your Tracks
Track Visibility
Grouping Track Contents
Deleting tracks

Fun with Markers

Moving, Deleting, and Synching to Markers
Splitting Up Your Timeline Using Markers

Saving Your Work

Saving a Project in Windows
Saving a Project in Mac
AutoSave
Creating or Opening a Project
Importing or Exporting a Project
Saving an Individual Video Frame
Saving Just the Audio

Summary
Exercises

Chapter 10 – Working with Other Media:

Audio & Visual Clips

Working with Audio Clips
The Voice Narration Tool
Double-Checking Your Audio Setup
Basic Editing of Your Audio Tracks
Audio Effects

Working with Visual Clips

Adjusting Visual Properties
Animations
Visual Effects

Remove a Color
Interactive Hotspots

Chapter 11 – Editing Effects

Annotations
Transitions

Adding a Transition
Changing Your Mind

Behaviors

Style Types
Other Behavior Properties

Zooming
Panning
Managing Your Zoom-n-Pan Effects
Cursor Effects

Basic Cursor Properties
Adding Cursor Effects

Interactivity
Captions

Captioning in Windows

Paste-n-Sync
Synchronizing Your Caption Content
Manual Addition and Organization of Caption Points
Speech-to-Text

Captioning in Mac
Importing and Exporting Captions
Captioning Options
Formatting Tips for Captions

Gesture Effects
Exercises

Chapter 12 – Saving Time on Task

The Library

Using Library Assets in Your Project
Adding Timeline Elements to Your Library
Managing Your Library

Themes
Placeholders & Replaceable Media
Templates
Presets and Favorites
Packages
Summary
Exercises

Unit VI: Sharing Your Work with Others

Chapter 13 – The Production Process

Production in Camtasia for Windows

File Format and Encoding Options
Video Size Options
Video Options

Video Info
SCORM Reporting
Watermarks
HTML

Marker Options
Produce Video
Production Preview
The File Formats

File Formats: The Condensed Version
Smart Player Output (MP4)
Windows Media Video (WMV)
Audio Video Interleave File (AVI)
Prepping Your Videos for DVD Output
Animation File (GIF)
Audio Only (M4A)

Production in Camtasia for Mac

The File Formats

MP4
Quicktime Movie (MOV)
Animated GIF

Other Production Settings

The TechSmith SmartPlayer
Caption Style options
Quiz display options
SCORM options
Table of Contents

Sharing to Online Services

Screencast.com

Uploading to Screencast.com from Windows
Uploading to Screencast.com from Mac
After Uploading

TechSmith Video Review
Vimeo
YouTube
Google Drive

Summary
Exercises

Chapter 14 – Other Output Considerations

Custom Production Presets
Batch Production/Export

Creating a Production Preset
Using Your Presets to Batch Produce
Batch Export for Mac

Additional Output Options

Production Preview
Share History
Saving an Individual Video Frame
Saving Just the Audio

Summary
Exercises

Appendices: Where to go from here

Appendix A – Equipment Buyer's Guide

Buying the Right Mic

Microphone Type
Directionality
Buying Tips
Microphone Accessories

Microphone Cable
Microphone Stand
Pop Filter
Monitors

Buying the Right Preamp

Analog Preamps
Audio Interface Devices
USB Microphones

The Basics of Acoustic Treatment
Buying the Right Video Camera

Appendix B – Getting Additional Help

The Screencaster
Other dappertext courses
Camtasia Certification

About the Author