What's the #1 problem with training courses for media creation tools like Camtasia?
Answer:  Instruction that isn't based on real-world use.
Dear aspiring Camtasia guru:
My first job out of grad school was with a small technical training firm in Okemos, Michigan. As a Microsoft-certified training partner, we mostly handled standard office fare, stuff like showing clerical staff the basics of how to compute data in Excel, or giving little old grannies their first introduction to Windows so that they could finally exchange e-mails with the grandkids.
One necessary part of the job was taking an occasional "development day" to prepare for a class you'd never taught before. Say I suddenly find I'm teaching Visual Basic for Applications the following day, and I don't have a clue what VBA is about or why it's even useful. I pull out our VBA instruction manual, and work through the book's exercises so that I'm ready to lead a classroom full of learners through the very same exercises, the very next day.
It may surprise you, but this is generally accepted practice in a great number of training firms. The person at the podium isn't always an expert in the subject matter. Often, they're barely one chapter ahead of their students.
For some courses, like Introduction to Word, this is okay, because if you teach that x button performs y action, most students can assimilate that information and apply it to their own ends. Writing a letter doesn't generally require a detailed set of best practices for efficient workflow.
Not so with heavy-duty video and media creation tools such as Camtasia Studio. You'll often want to replicate an effect you saw on YouTube. Or you'll be presented with a particular roadblock, like how to output your stuff to DVD without a huge quality drop, and have no idea how to proceed. This is the part where a cut rate pseudo-authority will stammer for a moment, and then say, "Errm, let me think about that one for a minute," while rushing to their instructor station, hoping to covertly google the problem and cover up their lack of practical knowledge.
By the way, my employer was greatly weakened, and eventually killed off, when a national training chain moved into town. You see, when the training experience becomes commoditized by false experts, the one who comes in with the lowest bid always wins. The national chain, buoyed by its other locations, could well afford to take a temporary revenue hit. They undercut every other training company in town, knowing full well they'd be able to raise their prices again once they'd driven everyone else out of business.
Fortunately, there's always a market for a true authority, fueled by forward-thinking organizations who know that the cost of dealing with the genuine article is going to pay serious dividends.
Get Camtasia Training from an In-the-Trenches Pro
If you want your team to successfully leverage your training dollar, you need someone with a decade, and not a day, of experience. Someone who actually uses this program for a living.
I teach private 2- and 3-day classes on Camtasia. The content is based on ten years of experience in screencasting. In that time, I've worked all manner of organizations, ranging from small one-person startups all the way to the likes of Pfizer, the IRS, and Microsoft. I've had screencasting clients (and training engagements) in the academic, government, and corporate sectors.
Note: We also teach dedicated six-week course called Screencast Ninja Academy. Click the link for more info.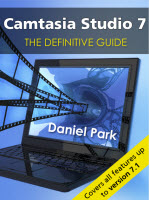 My book, Camtasia: The Definitive Guide, serves as the industry go-to guide for individuals who want to learn the application on their own. It's now on its fifth edition.
I'm also one of only a handful of TechSmith Recommended Training Providers. I've traveled the world teaching and evangelizing this amazing tool, including all over US, Europe, and even South Africa.
I had one training assignment a few years ago where I was to teach Camtasia at Knowledgewave Training, a nationally recognized training firm in Vermont. I gotta tell you, training a room full of expert trainers is not for the faint of heart. But in the end, the knowledge gained in that session helped them develop the materials to launch Log On to Learn, a very well-received training video portal.
This is what participant Matt Wohl had to say about the training:
Customized Training for Specific Needs
When training a team from the same organization, we have the luxury of customizing the class to give the participants maximum benefit. For example, one company might be heavily focused on 508 compliance, and for them, captioning is a must. Another may not be interested in captions at all, but are building a special studio and desperately need advice on hardware and software purchases. By clarifying the clients' goals and the obstacles in their path ahead of time, I can give each group exactly what they need.
While two days is generally sufficient to give participants a good functional knowledge of Camtasia, many folks (particularly those with emergent projects on their plates) opt to add a third day. This workflow-focused day allows your team to create and edit their projects with an expert at-the-ready to answer questions and give learners special tips, tricks, and best practices while they work.
If you're ready to help your team become competent screencasters, click the button below to fill out a brief form that helps me determine whether we're a good fit, and how you can best be helped. After submitting the form, you'll be able to download two PDF files:
A sample Camtasia course outline (though again, it's understood and even expected that it will be customized for each client).
Tuition costs, along with Terms & Conditions.
We also sometimes offer one-on-one teletraining. Please send an e-mail if interested in this.
I look foward to guiding your crew to screencasting ninjadom.
Daniel Park