Screencast Ninja Academy combines the Best of All Worlds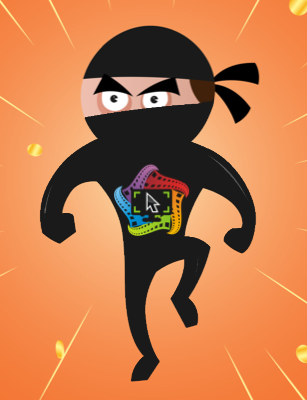 Books and on-demand Video Courses are a great entry-level primer for learning a new skill, but let's face it, they have some serious limitations. You learn the basic mechanics, and then do some exercises to get a bit of practice. The big leap comes when it's time to generalize what you learned to a real-world project. And what happens when you have questions that aren't covered in the material? Finally, there's no sense of community with others who are learning at the same time as you. Except for the text or video content to keep you company, you are completely ON YOUR OWN.
Live Courses address a lot of these limitations. You're with other learners, and there's an expert standing over your shoulder at the ready to answer your questions. The problem is that live courses (at least, those led by a true expert) can be prohibitively expensive, and that's not even including travel and hotel expenses. Plus, you have to make the course dates and times work with your insane schedule, which can be an exercise in futility.
Enter Screencast Ninja Academy, a formula that bridges the gap between live and on-demand learning.
Screencast Ninja Academy is screencast training like you've never seen before. Here are the basics:
Scheduled lessons. You have six weeks of daily on-demand content. Mondays and Thursdays offer tech lessons that let you follow along. Tuesdays and Fridays offer supplementary material that reinforce the lessons of the week. And Wednesdays are special "hot seat" days where I dissect the work of current students.
Real-world experience building your own screencast projects. Rather than general practice exercises, you get step-by-step assignments to build your own project from scratch, on any topic you choose. You get timely feedback on every assignment you turn in.
We support multiple tools and platforms. The three top screencasting tools are Camtasia for Windows, Camtasia for Mac, and Screenflow (for Mac). We'll be offering tech lessons with separate "branches" for each of these tools, so no matter which one you use, you'll be covered. Not sure yet? No problem! You don't have to choose on registration — you'll have permanent access to ALL of them.
Expert feedback on every assignment. As you build your project via bi-weekly assignments, you'll get personalized feedback from yours truly every step of the way. No more bashing your head against the wall trying to figure things out on your own. And when the course is over, you'll have three additional weeks to turn in coursework for feedback if you happened to fall behind.
A real sense of community. Registrants will get access to an exclusive Facebook group where they're encouraged to share projects, feedback, and resources. And when the course is finished, you'll get access to a permanent alumni group.
Access forever. Life happens. If something comes up where you fall behind and can't finish the course, all the content will be waiting for you whenever you can come back.
The course begins on Monday, May 29, 2017.
We're going to cover content that isn't in ANY of our previous books or courses. As of right now, we're estimating about 15 HOURS of quality instruction.
What You'll Learn in Screencast Ninja Academy
Here's an extremely broad (tentative) table of contents of our screencasting course:
Week One (May 29): Prep
You'll learn how to hone your video's purpose, define your target audience, and produce a top-drawer script and storyboard that actually accomplish the business goals you set for your production.
Week Two (June 5): Capture Phase
You'll find out how to perform nearly flawless recordings in a way that is replicable and modular, so that you can both nail things down quickly as well as easily replace mistakes and bad footage. You'll learn what separates good captures from bad, and special techniques for avoiding the latter. We'll pay particular attention to "setting the stage" for your captures, and how to quickly reset the scene when a re-shoot is needed.
This week will also cover the tools and techniques for recording the best possible audio narration.
Week Three (June 12): Cutting it Together
The third week focuses on assembling clips and narration into a cohesive package, employing editing techniques like clip speed, cutting, trimming, splitting, and frame extensions.
We'll also target the #1 issue most people's video quality ends up sucking lemons, even if they're experienced as screencasters: SCALING.
After Week 3, there is a lesson-free make-up week for folks to catch up on assignments.
Week Four (June 26): Adding Some Panache
In week four, you'll learn how to locate and use stock imagery and audio assets (both in the free and "reasonably priced" categories) for adding some variety and zing to your productions.
We'll also cover visual and audio properties, and the addition of special effects.
Week Five (July 3): Let's get eMotional
The fifth week is all about producing motion graphics for your screencasts. We'll cover basic keyframing and Camtasia's new Behaviors feature, and then move on to generating insanely cool animation effects that push the limits of the applications' capabilities.
Week Six (July 10): Sharing with the World
We'll wrap the course with special production settings as well as a survey of the various hosting solutions to give the best possible bang for your buck. Included is a discussion of Learning Management Systems (LMS) and video metrics.
The final week will also include a special "ask me anything" Q & A with instructor Daniel Park.
Live Course Quality at an On-Demand Price
The current plan is to schedule these courses on a quarterly basis. The participant count for each course is strictly capped at 100 learners.
The standard price for it is $899, well below what most qualified instructors (myself included) charge for a simple two-day class.