If this Camtasia guide doesn't save you at least $100 worth of time and frustration in learning Camtasia Studio, I'll pay you back 150% of your purchase price.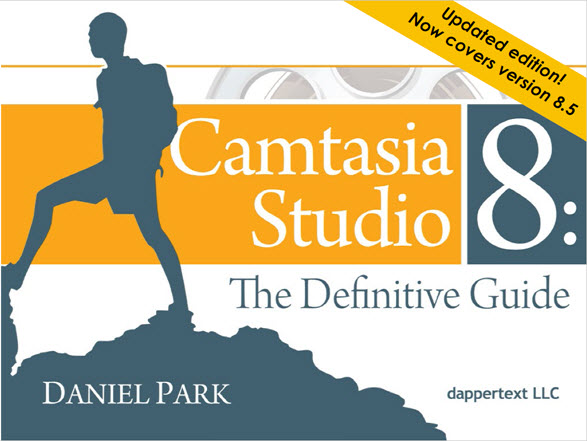 The best Camtasia Studio guide keeps getting better. Camtasia Studio: The Definitive Guide has been a mainstay of the screencaster's bookshelf,. It has helped people quickly become screencasting ninjas for the last five years. No Camtasia guide is as comprehensive or approachable. Now it's available exclusively as an all-digital download:
The sample button will let you download two entire chapters to peruse at your leisure. You can read tips on scripting and storyboarding your content, and find out all the intricate details of recording PowerPoint. Keep them with my compliments.
It wasn't a hard decision to go digital, because it enabled me to offer things that you just can't do on paper. Stuff like easy searchability. And full-size, full-color screenshots. And forty embedded screencasts that total over an hour of content. A lot of love went into this little tome. You'll be able to take advantage of my decade's worth of experience as a professional screencaster, learning not just features and buttons, but workflow and best practices.
All from one of the most experienced screencasters in the business.
And should you decide to purchase the full book, you'll get all 867 pages of content, including…
Tips on preparation
Recording, including best practices on recording PowerPoint and other special situations.
The lowdown on the multi-track editing and animation functions that are brand new to version 8 and beyond.
Tutorials on using all the special effects, including tips on when you'd want to.
Using Camtasia Studio to create a DVD.
Production advice to help you prep your screencast for any audience, any device. Avoid the "blurry" pitfalls of inappropriately scaled video!
A special hardware Buyer's Guide for audio equipment, so that you'll be able to narrate like a pro.
That's 1,000 pages of screencasty goodness, more than 300 screenshots, and an hour's worth of screencasts, for just $49.
My guarantee: find it useful or I'LL PAY YOU.
Yes, you read that right. The Definitive Guide is designed to shave many hours of frustration off your learning time. If after using this Camtasia Guide for at least three weeks, you don't believe you've saved at least $100 worth of time and frustration, just return it! I'll refund 150% of your purchase price. (See terms & conditions)
I'm so sure you're going to love the Definitive Guide that I'm putting my money where my mouth is. I would literally be paying you just to give it a try.
So get busy. You have absolutely nothing to lose.
Keep in mind that the book is now an industry-standard interactive PDF document. That means no proprietary readers. No digital rights management. The book can be opened on both Windows and Mac computers. Note: due to lack of robust reader app support, the more advanced features like the buttons, enlargeable images, and Quickcasts aren't yet supported for tablet devices (we're working on it).
On the fence? Just check out a few reviews submitted by our satisfied customers:
Average rating:
12 reviews
Feb 2, 2016
Great resource
This has proven to be a great value for those who really want to learn CS and use it for great professional work.
Sep 20, 2015
Camtasia Studio 8: The Definitive Guide
This guide has been invaluable in helping us to optimise the Camtasia Studio software. We have started creating e-learning material and the functionality offered is mind blowing when you can be guided easily on its use. A top-notch resource and a must have for anyone using Camtasia Studio!
Sep 19, 2015
Fantastic
This is a book for folks who really want to get the secrets to unlocking the power of Camtasia. I'm a corporate ID, we use Camtasia extensively for our product training. Our salesforce loves our product demos. They've even used them for client facing events. This ability to WOW my sales audience is due in large part to the knowledge I've gained from Daniel's book. Get it, you won't be sorry!
Sep 18, 2015
Daniel Park's Goes Above and Beyond For His Customers
I have been using Camtasia Studio for quite sometime now myself. But, when it comes to learning new ways and shorter ways to accomplish something then Daniel makes it truly easy to do. This Book is my go to guide for using Camtasia Studio as if I forget or want to learn how something new is done I have never tried it is right there and Daniel did a great job in making the book easy to read and find what you are looking for in my opinion. There are a lot of reference books and tutorials on using and understanding Camtasia Studio but I would have to say that any of Daniel's materials are always what I look for first and he is great about sending out emails only when there is something interesting or that can benefit you. Not everyday emails you get from others. And when he updates something then I get a message and I usually get the newest material. Thanks to Daniel Park for creating such a very Definitive Guide for all the Camtasia Users out there whether they are a complete beginner or an advanced user there is always something to be learned from your hard work. Keep it up Daniel and thank you again. No I do not get paid to say these things I just truly believe Daniel is one of the most thorough trainers out there and his materials help everyone.

I would suggest you Grab A Copy of Camtasia Studio 8: The Definitive Guide today so you do not miss out.
Sep 18, 2015
Camtasia Studio 8: The Definitive Guide
An outstanding work! I refer to it before looking at TechSmith's help site.
Still not sure if the Guide will address your needs? Scroll down for a complete table of contents!
Enjoy!
Daniel Park
——————————————————-
Contents
Unit 1: General Introduction
Chapter 1: Introduction to Camtasia Studio

What Is Camtasia Studio?

Can Camtasia Studio be used for usability?
Can Camtasia Studio be used to record games?
Is Camtasia Studio only for Windows? What about other platforms like Mac and Linux, and mobile devices like the iPhone and iPad?
Is Camtasia Studio spyware?

What's New in Camtasia Studio 8?

Footage Editing

Track Attack!
The Library

Object Editing

Visual Effects
Object Properties

Production enhancements

Pink-slipped legacy features
Smart Player on computers
Smart Player on iPhone

What Other Hardware and Software Do You Need?
Other Helpful Software
Chapter 2: About This Book

What You Can Expect to Find in Each Chapter

A New Digital Edition Brings New Benefits
Full-color, pop-out images
Easy Navigation
Printing
Quickcasts

About the Screenshots in This Book
About the Terminology in This Book
Formatting Conventions

Hotkeys
Special Sections
Emphasis
Unit II – Prep Work: Before your first Recording
Chapter 3: Quick and Dirty Curriculum Design

General Guidelines

Know Your Audience
Determine All Technical Specs Ahead of Time

Tips for Making a Top-Notch Training Video

Why Train with a Screencast?
Know Your Video's Purpose
Learn the Basic Principles of Educational Multimedia

People learn better when information is presented in bite-sized chunks (segmentation principle).
People learn better when information is presented in a conversational style rather than a formal one (personalization principle).
People learn better when on-screen text is presented near any corresponding images (spatial contiguity principle).
People learn better when any extraneous information is removed (coherence principle).
People learn better from animation and narration than animation with explanatory on-screen text (modality principle).
People learn better when animation and narration are synchronized than when they're asynchronous (temporal contiguity principle).
The design of multimedia presentations can have different effects on people based on their prior knowledge, visual literacy, and spacial aptitude (individual differences principle).

Recording Techniques for Training Videos

Make Liberal Use of Attention-Getters
Slow It Down
Don't Get Mired in the Details
Set Specific Goals

Tips for Making a Masterful Marketing Video

Why Sell with a Screencast?
Know Your Video's Purpose
Address the Customer's Need
Remember to Ask for the Sale

Tips for Making a Dynamite Demonstration Video

Why Present with a Screencast?
Determining the Video's Purpose
Finding Information about Your Audience

Additional Reading

Training Videos
Marketing Videos
Demonstration Videos

Summary
Chapter 4: Scripting and Storyboarding

General Tips on Scripting

Gathering All the Pieces
Avoiding the "Blank Page" Syndrome
What to Write: Form and Content

Make the Wording Audience-Appropriate
Be Consistent in Your Terminology
Possible Scripting Techniques

General Tips on Storyboarding

Choose a Presentation Layout You're Comfortable With
Storyboard Flow
Multiple Image/Video Tracks

Summary
Unit III – Recording With Camtasia Studio
Chapter 5: Recording Your Screen

Making Your First Recording
Setting Up Your Recording

On Consistency: Capture Area Selection Revisited
Choosing Which Streams to Include
The Camtasia Recorder User Interface

Adjusting Your View
The Menu Bar

Recording Games

Recorder Workflow Tips

Work from a Script
Take the Time to Set Up Your Shot
Don't Mess with Your Windows
Timing Is Everything
Avoid the Scroll Wheel
Pause when Needed
Split Things Up

Summary
Exercises
Chapter 6: Special Effects of the Camtasia Recorder

Annotation Effects
Cursor Effects
Mouse click sounds
ScreenDraw
Summary
Exercises
Chapter 7: Recorder Tools Options

The General Tab

Help Options
Capture Options
Saving

The Inputs Tab

Frame Rate
Video settings

So, What's a Codec, Anyway?
The Compression Quality Slider
What's a Key Frame?
Specifying the Data Rate
Other Compression Options

Selecting an Input: Audio Devices and Sources
Selecting an Output: Audio Settings
Webcam settings

The Hotkeys Tab
The Program Tab

Recording region
Workflow
Minimize

Summary
Exercises
Chapter 8: Recording Your PowerPoint Presentation

Why Record Your PowerPoint Presentations?

Almost as Good as Being There
Audio and Video
Ink Annotations
Portability
Better Playback Control
Interactive Features
Security
Capture of Third-Party Applications

Camtasia Studio Add-In Toolbar
Add-In Options Dialog

Program Options
Video and Audio Options
Picture-in-Picture Options
Record Hotkey Options
Watermark Options

Recording Your Presentation
Moving Your Project to Camtasia Studio
Playing Camtasia Studio Screencasts within PowerPoint

Linking to Camtasia Player

Troubleshooting the Add-In

What If the Add-In Doesn't Open?

Summary
Exercises
Unit IV – Editing Within Camtasia Studio
Chapter 9: Working with Camtasia Studio

The Camtasia Studio User Interface
Importing and Using Your Media Clips in Camtasia Studio

Importing from Google Drive
Importing from your Smartphone
Utilizing the Clip Bin
Previewing Your Clips
Adding a Clip to the Timeline
Adjusting Your Editing Dimensions

Editing on the Timeline

Viewing Your Work on the Timeline
Basic Timeline Editing

Moving Clips Around on the Timeline
Selecting Content for Editing
Selecting Entire Clips
Zooming In and Out on the Timeline
Trimming Content from the Timeline: Method 1
Trimming Content from the Timeline: Method 2

Advanced Editing Techniques

Splitting a Clip
Extending a Video Clip

The Multi-Track Layout

Adding new tracks
Renaming and Viewing Tracks
Locking Your Tracks
Grouping Track Contents
Deleting tracks

Fun with Markers

Moving, Deleting, and Synching to Markers
Splitting Up Your Timeline Using Markers

Saving Your Work

Saving a Project
AutoSave
Creating or Opening a Project
Importing or Exporting a Project
Saving an Individual Video Frame
Saving Just the Audio

The Library

Using Library Assets in Your Project
Adding Timeline Elements to Your Library
Managing Your Library

Removing Library Assets
Exporting and Importing Your Library Assets

Summary
Exercises
Chapter 10: Working with Other Media: Audio, Camera Video, and Graphics

Working with Audio

The Voice Narration Tool
Basic Editing of Your Audio Tracks
The Audio Tab
Recording System Sound

Technique 1: Using Your Sound Card
Technique 2: Total Recorder
Technique 3: Creative Cabling
Technique 4: Miking the Speaker (Not Recommended)

Testing Out Your Settings

Recording Camera Video
Graphics

Adjusting Visual Properties
Animating Visual Properties
Chapter 11: Editing Effects

Callouts and Flash Hotspots

Defining the Callout's Shape
Callout Shape Tools
Adding Text
Adjusting the Callout's Properties

Fade in and Fade out
Adding a Flash Hotspot
Text Box
Opaque Text

Zoom-n-Pan Effects

Zooming
Panning
Managing Your Zoom-n-Pan Effects
SmartFocus

Transitions

Adding a Transition
Changing Your Mind

Cursor Effects
Captions

Paste-n-Sync

Synchronizing Your Caption Content
Manual Addition and Organization of Caption Points

Speech-to-Text
Importing Captions
Captioning Options
Formatting Tips for Captions

Quizzing
Summary
Exercises
Unit VI – Sharing Your Work with Others
Chapter 12: The Production Process

Common Production Elements

File Format and Encoding Options
Video Size Options
Video Options

Video Info
SCORM Reporting
Watermarks
HTML

Marker Options
Produce Video
Production Preview

The File Formats

File Formats: The Condensed Version

Flash/HTML5 Output (MP4)
Windows Media Video (WMV)
QuickTime Movie (MOV)
Audio Video Interleave Video File (AVI)
iPod, iPhone, iTunes Compatible Video (M4V)
Audio Only (MP3)
Animation File (GIF)

Flash/HTML5 Output (MP4)

Flash / HTML5 Player Options
Marker Options
Flash/HTML5 File Structure

Windows Media Video (WMV)

Windows Media Encoding Options

QuickTime Movie (MOV)

QuickTime Encoding Options

Audio Video Interleave File (AVI)

AVI Encoding Options
Prepping Your Videos for DVD Output

iPod, iPhone, iTunes Compatible Video (M4V)
Audio Only (MP3)

MP3 Audio Encoding Options

Animation File (GIF)

Animated GIF Encoding Options

Custom Production Presets
Sharing to Online Services

Screencast.com
Google Drive
YouTube

Summary
Exercises
Chapter 13: CD-based Videos with Camtasia MenuMaker

Getting Started with a New Project
MenuMaker's Main User Interface
Main Menu Properties

General Properties Tab
Cursor Properties Tab
List Properties Tab
Content Properties Tab
Button Properties Tab

Submenus and the Map View

Viewing Your Menus in Map View
Adding and Removing Submenus
Moving Content between Menus

Project Properties

Project Preferences
Display Preferences
Resources Preferences

Project and Template Files
The Final Step: Testing and Creating Your Menu
Summary
Exercises
Chapter 14: Other Output Considerations

SmartPlayer technology
Batch Production

Creating a Production Preset
Using Your Presets to Batch Produce

Camtasia Player

The Camtasia Player Interface
Camtasia Player's Command Line Parameters

Summary
Exercises
Appendices – Where to go from here
Appendix A: Equipment Buyer's Guide

Buying the Right Mic

Microphone Type
Directionality
Buying Tips
Microphone Accessories

Microphone Cable
Microphone Stand
Pop Filter
Monitors

Buying the Right Preamp

Analog Preamps
Audio Interface Devices
USB Microphones

The Basics of Acoustic Treatment
Buying the Right Video Camera
Appendix B: Getting Additional Help
Camtasia Studio 8.4 Definitive Guide
Average rating:
0 reviews