Camtasia Training done right.
Give us two days. We'll give you a bankable skill for life.


Daniel Park, author of Camtasia Studio: The Definitive Guide,
hands you the keys to screencasting productivity
in the most comprehensive Camtasia training courses available.
DATES
Basic Training – August 4-5, 2016.
Advanced Topics – August 6-7, 2016.
IMPORTANT ANNOUNCEMENT: We are temporarily suspending our live boot camps while we work on a special online screencasting masterclass that will combine on-demand lessons, community, real-world assignments, and individualized feedback. Sign up using the form on the right to find out more as it nears completion.
---
Why aren't there more master guitarists in the world? After all, a guitar's anatomy is pretty simple. A wooden body, a neck, metal frets, tuning pegs, and strings. Almost everyone knows what a guitar looks like, and a great many folks know which strings to press down at which frets in order to produce an E, for example. But that doesn't make you a guitarist.
It's the same way for learning the art of screencasting. Your average tech trainer might know the tool's interface, and that you need to click button X in order to execute command Y. But that doesn't make them a screencaster.
It won't make you one, either.
When picking someone to teach you, do you want a master, someone who truly plays the instrument, or just a poseur who only knows how to strum and finger a few chords? My name is Daniel Park, and I've been one of the world's leading screencasters since before the word "screencast" even existed.
I've also been training people on screencasting for over a decade. And after years of catering exclusively to corporate trainees with private courses, we now teach public boot camps a couple of times per year. The reason is simple.
As Camtasia Studio has grown in popularity, various tech training companies have caught on and started offering classes. Their instructors have buckled down and studied its features, learning the function every menu and button. There's only one problem:
None of these folks actually screencast for a living. It's what these instructors DON'T know, and therefore don't teach, that makes all the difference. For example:
They don't know the million little workflow tricks that can shave days off of each and every project.
They don't know the third-party software tools that compliment Camtasia Studio.
They don't know how software, the right equipment, and know-how can magically combine to produce excellent studio-level audio, even on a budget.
They don't know how to construct an hour-long planning session that will save at least three on the back-end.
They don't possess the hard-learned techniques of dealing with clients, colleagues, and bosses to get the project in the can without becoming mired in committee-review hell.
But I do. And I've been doing it for over a decade.
In just the past couple of years, we've done barnburner Boot Camp sessions in Chicago, Detroit, Orlando, DC, and Irvine. At the end of each session, I offered to pass around my iPhone so that participants could record their candid thoughts on the course. Many were camera-shy, but a few took up the challenge: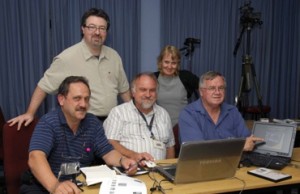 A group photo of me with my incredible Camtasia Studio students (Mathematics Professors).
Port Elizabeth, South Africa – February 2011
How do I know if the Camtasia Studio Boot Camp is for me?
If you're an enthusiastic beginning or intermediate-level learner who wants to create top-drawer tutorials and marketing spots, then this course is for you.
Okay. How do I know if it's NOT for me?
This public Camtasia training class is not suited to organizations who want to implement department- or company-wide knowledge of screencasting techniques. Our private, on-site courses are the preferred path for those organizations. Additionally, if you can't make the trip to one of our training locations, you're probably better served by the lower-cost alternative of our online Camtasia Studio course.
What will I learn?
Basic Training Itinerary
The Camtasia Studio 8 Boot Camp is a healthy mix of theory and practice, taking you from the planning stages of your project all the way through recording, editing, production, and sharing. While we'll be working on stock projects in class, the more intermediate and advanced users are encouraged to bring and work on their own projects, where I'll be available to assist, and may even use your project as a class example. Here's a breakdown of the two-day training:
Day One
Preliminaries: Course Introduction, introduction to the software, polling students to determine their individual needs for what they want out of the course.
Curriculum Design, Scripting, and Storyboarding: Finding your audience, basic principles of educational multimedia, importance of scripting, basic storyboarding techniques.
Basics of Recording:
Setting up your recording – Setting the capture area, choosing which streams to record.
Exploring the Recorder's User Interface – Adjusting the view, menu options, Statistics and Properties area, Recorder's tray icon.
Making your Recording –  A guide to your first recording.
Workflow tips – Recording animated content, avoiding common recording mistakes, time-saving tips.
Recorder Special Effects:
 Annotations – System stamps and text annotations.
 ScreenDraw – How to mark up your screen as you record.
 Recorder Advanced Topics:
Video options – Introduction to codecs, compression quality, frame rate, hardware acceleration, key frames, data rate.
Audio options – Audio setup,  selection of capture devices and sources.
Other program preferences – Capture options, choosing the file type, hotkeys, camera options.
Recording PowerPoint:
Why record your PowerPoint presentations?  An exploration of eight good reasons to record live presentations and archive older ones in video format.
Basics of Recording – Setting up the Recorder toolbar, reducing the dimensions of your Presentation, basic troubleshooting.
Moving the recording into Camtasia Studio – Adding a presentation to CS, making use of markers, using PP notes for captions.
Additional considerations – Recording video content within PowerPoint, making smoother captures, playing back CS videos from within PowerPoint, adding animated GIF files.
Working with Camtasia Studio: 
Introduction to the User Interface – exploration of the Clip Bin, video preview, timeline, and task list.
Basic Timeline-based Editing – Making use of Clip Bin contents, adding content to the timeline, adjusting your project properties, zooming your view, two methods for making basic cuts.
Multitrack Considerations – New to version 8! An exploration of the multi-track system and how to layer content, including how to group clips together.
Visual Properties – New to version 8! Adjust the size, opacity, position, and rotation of all visual elements on the timeline.
Visual Effects – New to version 8! Apply special filters to visual media, such as Drop Shadow, Colorize, and Border.
Day Two
Working with Camtasia Studio (contd.):
Advanced Editing Techniques – Splitting clips, adjusting clip speed, extending clips, viewing and locking tracks.
Markers – Creating, renaming, & removing markers, plus a discussion of how markers can make editing & production easier. And new to version 8, binding markers to a clip or group.
Saving your Work –  Saving & opening projects, importing/exporting projects, unpacking a CAMREC, saving an audio stream, saving an individual frame.
Audio in Camtasia Studio:
The Voice Narration tool – VN settings, manual and auto extend, setting the recording duration, track selection.
Basic Editing – Fades and other volume adjustments, silencing out a selection, and audio enhancements (dynamic range control, background noise removal, and vocal enhancements).
Recording System Sound – Covering various techniques for capturing audio from the computer, including sound card, and potentially, TotalRecorder and/or patch cabling.
Advanced Camtasia Studio Tricks and Effects:
Animations – New to version 8! Animating video clips, still images, and callouts over time.
Title Clips – Adding & inserting clips, adjusting text, adding graphics.
Recording & Editing Camera Video – Setting up the camera, choosing the preview mode, formatting options.
Transitions – Adding, altering, setting duration, and removal.
Callouts and Flash Hot Spots – Defining a callout, adding text, adding a Flash Hot Spot, Hot Spot capabilities, adjusting properties, adding custom callouts.
Zoom-n-Pan Effects – Zooming, panning, and a discussion of the stylistic & practical reasons why zoom-n-pan is advisable, SmartFocus.
Flash Quizzes & Survey – Multiple-choice, fill-in, & short answer questions, and managing your quizzes and surveys.
Captions – Adding narration text, formatting text per NAD guidelines, synchronizing caption content, manual editing, open vs. closed captions, and captioning options.
The Production Process
The Choices – A fly-by overview of the different production options available in Camtasia Studio and how to leverage each for specific purposes.
Common Production Elements – Regardless of final output choice, certain elements are common to all, such as encoding options, video size, video info, watermarks, SCORM, embedding in HTML, marker (table of contents) options.
File Format options – After an assessment of the client's most likely output contenders, we discuss the specifics of these formats.
Advanced Production Options –Production Preview, Production Profiles, Batch production, Camtasia Player.
TechSmith Smart Player – New to version 8! How to produce screencasts, complete with interactive features, for viewing on the iPhone.
(If time allows) – Disc-based Video Projects with Camtasia MenuMaker
MenuMaker Wizard – Template selection, adding content, naming your menu.
MenuMaker Interface – Main UI, General Properties, Cursor Properties, List Properties, Content Properties, Button Properties.
Content Options – Adding links, web addresses, standard text.
Submenus – Adding and removing submenus, Map view, moving content between submenus.
Project Properties – Project preferences, Display preferences, Resources preferences, Project & Template files.
Menu Production – Testing, creating, and burning your menu to disc.
Advanced Topics Itinerary
While our Basic Training Boot Camp focuses more on learning the general functionality of Camtasia Studio and its standard workflow of record > edit > produce > share, this Advanced Topics Boot Camp picks up from there, cementing basic concepts while exploring new areas like video hosting, equipment, and third-party software.
The Advanced Topics Boot Camp is entirely learner-driven. Registrants will be surveyed ahead of time as their current needs, the gaps in their knowledge, and what they'd most like to take away from the course. We then custom-create a specialized curriculum based on this information, and devote the entire first day of the workshop to addressing these topics to the benefit of all.
The second day consists of guided practice in the development of your screencasts. Rather than work with the generic exercises, participants are required to bring along ideas and assets for their own projects. During these practice sessions, students will be encouraged to occasionally "drive" the projector and share techniques and ideas with their fellow learners, all the while benefiting from the expert guidance of one of the most experienced and prolific screencasters in the business.
As there is no set curriculum for the course, which focuses on workflow and the art of screencasting as opposed to a walkthrough of technical procedures, it is appropriate for users of either Camtasia Studio (PC) or Camtasia Mac.
Daniel Park, the original Camtasia Studio maven, with you every step of the way.
Back in 2000, TechSmith Corporation introduced a little suite of applications called Camtasia. At that point, it was no more than a tiny recorder utility, along with a small producer application that let you string multiple recordings together. A humble little program with big implications.
They brought me in as an outside consultant, where I wielded Camtasia to make some of the very first screencasts (which were, not surprisingly, about Camtasia). I was making these screencasts before the word "screencast" even existed.
After a brief tenure there as a full-time employee, I once again struck out as a consultant, where I was approached by a small tech publisher to leverage my experience for a book, one that would be so definitive that no one else would bother trying to top it.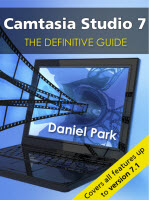 Camtasia Studio 3: The Definitive Guide was born, and soon to follow were paper editions for versions 4, 5, and 6, an all-digital guide for version 7. We then produced a new and improved (interactive PDF)  Camtasia Studio 8.2: The Definitive Guide, and it remains, as ever, without peer in helping do-it-yourselfers get up to speed quickly.
I know this program better than anyone. I have to. It's my job to document its every intricacy. I've seen its development over the years, from its inception as the "little utility who could" to the amazing capture-editing-titling-animating-production-sharing juggernaut it is today.
I'm also one of only a handful of TechSmith Recommended Training Providers, and currently the ONLY one who services North America. In fact, I go all over the world.
Past learners have loved our Camtasia training.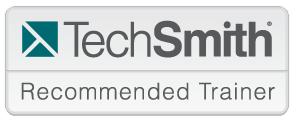 While this is the first public course we'll be offering, I have offered private courses for companies of all shapes and sizes for the past decade. Organizations like Pfizer, the Mayo Clinic, and the Internal Revenue Service. All very different enterprises with wildly different goals. But they have one thing in common. They came away from the training happy, more knowledgeable, and enthusiastic about the possibilities of that new knowledge.
I had one training assignment a few years ago where I was to teach Camtasia Studio at Knowledgewave Training, a nationally recognized training firm in Vermont. I gotta tell you, training a room full of expert trainers is not for the faint of heart. But in the end, the knowledge gained in that session helped them develop the materials to launch Log On to Learn, a very well-received training video portal.
This is what participant Matt Wohl had to say about the training:
That's a heck of a compliment coming from an expert trainer like Matt. But he's also not alone…
"I've been using Camtasia for quite a few years. I attended the Camtasia Studio 8 Boot Camp (Advanced Topics) at the end of 2012 and was surprised at what I didn't know! Daniel is a wealth of information and clearly has a gift for working with and training others in Camtasia. I got a lot out of the Boot Camp; mainly work-flow and shortcuts which expedite the process of creation. For me, the best part about the Boot Camp was that it was hands-on. Sure there is "theory" but it's so much easier to learn by getting into Camtasia and actually using what you just learned. I highly recommend this Boot Camp."
– Scott Meister, Indianapolis, IN
On the Basic Training: "This boot camp was an excellent value. I've used Camtasia for a few years, but I knew there were gaps in my knowledge. I thought this course could help, and boy, was I was right. I learned about some features I didn't know were in the software; about the properties of some things I didn't understand before; and I picked up some great tips about design and recording. It was really helpful to have an expert demonstrating the product, and to answer questions."
On the Advanced Topics: "Another great value! It was helpful to be able to work on my own project and use my newly acquired knowledge to make it better. Daniel showed us how he puts together a project, which gave me a lot of good ideas. This course has helped me create my videos faster and make them much more interesting."
– Karen O'Lane, Irvine, CA
"The specialized 3-day training by dappertext were delivered in a professional way with lots of flexibility to cater for the needs of individual participants. Not only did dappertext deliver on theobjectives of the training course, the training also created a perspective of CS and its functionalities that inspired us to pursue a number of new and exciting applications of CS."
– Prof. Werner Olivier, Nelson Mandela Metropolitan University, Port Elizabeth, South Africa
"When I needed help getting up and running with Camtasia Studio, I got Daniel Park's name as a recommendation, the man who literally wrote the book on this application. And I can't tell you howglad I am that I called him. He worked with me in digestible hourly sessions via phone and webcast to help me master Camtasia Studio in a fraction of the time it would have taken me otherwise. For training or consulting on screencasting, give Daniel a call – you won't regret it for a moment."
– John Nessel, President, Restaurant Research Group
Standard price for an exceptional course, plus free bonuses!
The cost of the course is $1299 for both days.  This is roughly on par with what other, vastly less qualified instructors charge.
Exclusive special bonuses
By signing up for our Boot Camp, I'm also giving away two highly useful bonuses:
Our completely awesome, all-digital Camtasia Studio 8.5: The Definitive Guide. The latest edition of the Definitive Guide includes hundreds of screenshots and dozens of screencasts. It's been newly revamped as an industry-standard interactive PDF, and will serve as a great prep tool before the course, and as an awesome searchable reference after the course is complete. We'll be using it in the course itself, but you'll receive your copy the instant it's released. Oh, and Boot Campers get free updates to the guide FOR LIFE. $49+ value.

A coupon for a free 30-minute one-on-one teleconsulting session with yours truly. Most students come away from my courses psyched about what this incredible tool can do for them. But later, when they get involved with their own actual projects, they often get stuck by a technical hassle, workflow issue, or their own sparse knowledge on certain specialized features. At that point, it's critical to have an expert in your corner, someone who's seen it all, and can guide you in the right direction. This is doubly true if you've got a deadline looming.
You'd be amazed what we can accomplish together in a half hour. Your coupon…
Has no blackout dates.
Expires a full year from the date of your course.
Entitles you to priority scheduling.
Session will always be with me, Daniel Park, and never an associate.
Just touch base when you're ready to use it, and you're well on your way to getting your screencasting issues resolved. $140 value.
Refreshments will be provided during class, and we'll also be handing out free swag, compliments of our friends at TechSmith Corporation.
Our guarantee: Love it or it's FREE.
If at the end of the course, you decide that it was two days of your time poorly spent, I'll give you 100% of your tuition back. You can even keep the book with my compliments. We won't even ask you why (though you're certainly welcome to tell us). Most of our boot camp participants have an "Ah-ha!" moment at some point during the course, usually the first morning, where they tell me, "That little trick right there was worth the cost of admission all by itself!" The odds of walking away happy are definitely in your favor.
A hard limit of 15 slots for each course.
This introductory offer is going out on the TechSmith course catalog, our site, and a couple thousand Screencaster subscribers. Fifteen slots for Basic Training, and 15 for Advanced Topics. That's it. I believe in providing lots of personal attention to my course participants, so I absolutely will not admit more than 15 each.
We'll happily take your payment information via online purchase. If you prefer to pay by check, simply contact us, and we'll be happy to assist. But hurry, as these very limited slots will not last long.
Average rating:
13 reviews
Aug 7, 2016
Simply Superb!
Just finished the 2-day Camtasia Studio Advanced Topics Training by Daniel Park...Cannot say enough about how very useful this training was for me. Going into this training session, I had a very good idea how Camtasia worked, and could do many of the basic operations.During the training, Daniel addressed the questions we posed to him before the course began, and he customized the course to explain how to do the things I wanted to learn. Daniel did an excellent job filling in the gaps in my knowledge, and was there with me every step of the way as I forged into new territory.Camtasia is not an easy topic to learn independently. One of the great values in taking this course from Daniel is his encyclopedic knowledge of the program and its capabilities. He not only knows Camtasia, he knows how to teach it effectively. His training provided lots of useful instruction, and also includes practice periods to work on your own projects under his watchful eye. This was invaluable to me in learning new Camtasia methodologies and helped me on my way to learning some of the many Camtasia shortcuts to improve my production speed.Daniel is a font of knowledge about screencasting, including equipment, techniques, and resources. When you take this course, make sure that you pick his brain thoroughly.As part of the training, Daniel provides every student with an electronic version of his book, Camtasia Studio: The Definitive Guide. He provides it when you enroll in the course so that you have the opportunity to familiarize yourself with the material, and he generously provides infinite updates.For someone who wants to learn how to truly make Camtasia sing, Daniel's teaching is incomparable. I highly recommend Daniel and the courses he teaches.
Aug 7, 2016
Just what I needed
Camtasia Bootcamp Advanced Course - The reason I took this course is because I wanted to be more efficient and more confident in the training videos I created. This course has definitely helped with both. Daniel is very knowledgeable. He talked about workflow; as an exercise, we edited video; he also showed us some shortcuts. No question was too hard. I walked in a novice and I am walking out feeling like a pro. Thanks Daniel!
Aug 7, 2016
Great production and workflow tips
Many great tips and tricks that will save me a ton of production and editing time, and information and ideas for different options for presenting information. Although I've been using Camtasia for many years, I learned a lot of handy little time-saving shortcuts that I never knew about. In particular, I wanted to have a better understanding of how to use Camtasia's animation options and visual properties, so I didn't have to be dependent upon PowerPoint for various animation effects. I came away from the session feeling much more confident in my ability to improve the quality of my videos. Highly recommended.
Aug 5, 2016
Great for Reaching that
Daniel Park's BootCamp Basic Course is a great way to learn Camtasia Studio in a fast two days. Daniel isn't your standard instructor. In addition to knowing Camtasia inside and out, he's been working with it for over 15 years. His experience with Camtasia is unparalleled, and his skill as a teacher enhances the course tremendously. Daniel actually produces many videos professionally, so he has the additional breadth of understanding that only a regular software user develops.The thing about Camtasia Studio is it takes a fair amount of introductory learning before it begins to make sense. I've used Camtasia for years, but never got past the introductory phase. Taking Daniel's course transitioned me to a more advanced stage, and allowed me to reach that "Golden Moment of Understanding" where all the material came together. It took me until the afternoon of the second day to realize just how powerful Camtasia is, and how useful it can be for me and my work.Daniel is entertaining, eager to answer questions, and genuinely interested in helping his students learn to use Camtasia. He also takes a keen interest in helping students produce useful videos that will benefit and captivate their viewers for years to come.Overall, this is the most useful course I've taken in decades, and feel the course is well worth the price of admission.
Aug 5, 2016
To the Point
Basic Training was an amazing two day journey for someone like me with very limited graphic production skills. Daniel nailed the essentials I needed to get my PowerPoint trainings up and running, plus so much more. Daniel unlocks the power of Camtasia. It is well worth the money to kickstart your projects into reality.
Dec 4, 2015
Comprhensive & Strategic
When you go through a book or even video based course you often have questions about why something is being done a certain way. If you can do it another way and why you might. You might also have strategic questions about how you would use a certain feature or item.To me that is the reason to sign up for one of these boot camps and attend in person. The ability to interact, ask questions and get immediate feedback is unmatched in any other format.Daniel does a fantastic job guiding you through the basics up to advanced features. In addition, he talks about screencasting concepts in a conceptual way that helps you absorb and use this skill in your own business or company. I am really looking forward to implementing many of the things I learned in this class for my own projects and for my clients.
Sep 12, 2015
Bootcamp or Bust!
When I needed to learn Camtasia, I bought The Definitive Guide. I immersed myself in it and was able to create decent videos for my website. Then I decided to attend one of Daniel's bootcamps to really ramp up my game. I learned about features that I didn't know that I needed, I learned new techniques and tips, and I learned how to plan and design my videos for maximum effect. All of this happened in the Basic course! The Advanced course was great for allowing me to use what I had just learned and complete a project in the class, which turned out fabulously. Whether you're in the early stages of learning Camtasia, or moving on to the expert level, the bootcamp is priceless. Do the bootcamp instead of a vacation. You'll thank me later.
Sep 11, 2015
Great investment
Great investment - After this course I was able to create more polished videos, much more quickly. This course allowed me to develop online seminars that have revolutionized our business. Also, I had a really good time. Thank you !!
Sep 11, 2015
If you really want to learn
I had paid twice the amount from "another" company, that used Daniel's book as the basis. Go to the Master, learn what really works. If you want to truly learn Camtasia, Daniel's Bootcamps are the real thing from a master teacher and Camtasia Guru.
Apr 2, 2015
Bootcamp Rocks!
Camatasia Bootcamp was just what I needed to get up to speed quickly and turn my ideas into reality. Daniel has lots of great information to share and will have you screencasting like a pro in no time!