Summer of Miracles
Or, so where the hell is the book already???

I don't often talk about my personal life on the dappertext list and site, but I felt somehow compelled to open up to you about something. I want to tell you about my summer.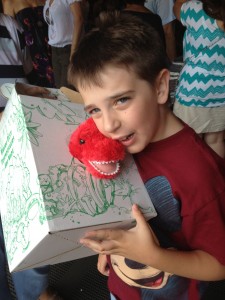 The incredibly handsome young man over here on the right is my son Rubén. He just turned ten. At a year and a half, he was diagnosed with moderate to severe autism. Of course, we knew before anyone in a white coat ever confirmed it. As a baby, Rubén was a beautiful, smiley boy who flirted with strangers and sought your attention. At around a year of age, however, the smiles began to fade. People became like furniture to him, mere obstacles in his path. The couple of words he possessed disappeared, and wouldn't return for some time.
I'll never forget the endless nights I spent lying awake and silently mourning the boy I thought would be lost to me forever. After bringing him back to the U.S. for treatment, we got the official diagnosis, and it became real. At that point, we made the conscious decision to stow our self-pity, and to get busy.
Thus began a parade of speech therapists, diets, vitamins, probiotics, and various other interventions, both therapeutic and biomedical. It hasn't been easy. My son is also what is known in the world of autism intervention as a "tough nut." Some kids, with the right interventions, can glide right off the spectrum in a matter of months. For us, it's been a grueling inch-by-inch battle, complete with occasional scary regressions, mystery rashes, intermittent sensory problems, and chronic "gut issues" (I won't gross you out with the details on that one).
As you can probably imagine, this takes quite a toll, not only your mental and spiritual energy, but also on your pocketbook. By just about anyone's standard's (except maybe Donald Trump's), dappertext LLC does reasonably well for a one-person company. But that doesn't keep me from feeling the burn when these various interventions cost upwards of $25K per year. Luxuries like vacations, nicer cars, fine clothes, etc., have had to go by the wayside. Still we dreamt of bringing in better income, not so we could afford the cars and clothes, but so we could afford to do more for Rubén. Anything to make him better.
In the spring of this year, I managed to sign a couple of lucrative new clients, enabling us to finally make the big push we had always dreamed of. Our first stop was Boston, where we had him scoped from top to bottom by one of the world's leading pediatric gastroenterologists. Then it was down to Florida, visiting his biomedical autism doc for six weeks. First there were more tests, followed by some targeted, aggressive interventions. I won't disclose details about these, as I don't want to give the remotest perception that I'm doling out medical advice to anyone. But suffice to say that these interventions were indicated by either clinical observation, his personal lab results, or both.
The result for this tough nut has been remarkable. A flurry of little improvements which, taken collectively, add up to A LOT. Worth every penny we spent, and more. To wit:
Better speech. He now says longer sentences, and constructs them less laboriously.
Better (more emotive) inflections in his speech. The flat, monotone affect so common among spectrum kids is now reduced.
Lovely pretend play (also a major problem with spectrum children), using his stuffed animals to put on puppet shows.
He's increasingly seeking out play and interaction with me and his mother, and appropriately answering questions.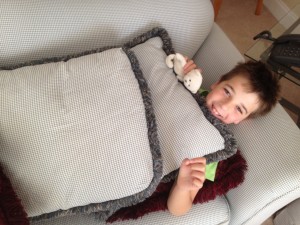 I know these seem like very small things, especially for those with neurotypical kids. But for us they're HUGE. It gives me confidence that even an older spectrum child can still progress.
So why am I telling you all this? For two reasons. For one, I'm a proud pappy who wants to shout my son's accomplishments from the rooftops, particularly in light of the light of the fact that there hasn't been anything much to shout about in some time.
I'm also telling you because I'm getting an increasing number of calls and e-mails (most very diplomatically worded — a couple of them, not so much) inquiring as to the status of the Camtasia Studio 8: The Definitive Guide. Because this trip was largely an impromptu one, it required shifting my schedule around, and the book would therefore be seeing release significantly later than what I had been telling people. And I guess I just felt you were owed a more detailed explanation than the usual family issues blah blah personal time blahbitty blah. Please believe that I'm looking forward to its release every bit as much as you are. I very rarely say this about an emergent business issue, but I simply had more important things to take care of this summer.  :-)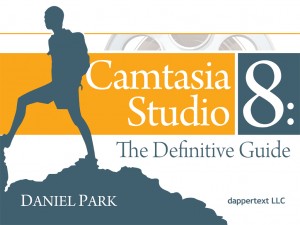 Rest assured that it is still on track on for release in the near future. Part of the hold-up has been moving the whole thing to a newer, more stable authoring platform (specifically InDesign). The book will now release as an industry-standard interactive PDF. No more proprietary viewers, no more text that doesn't scale (a big complaint among my senior audience), and no more cross-platform issues. I think you'll be pleased. As always, Screencaster subscribers will be immediately alerted when I release it into the wild.